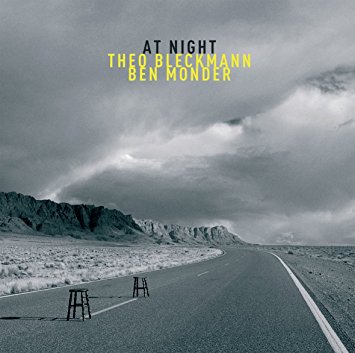 Theo Blackmann – voice
Ben Monder – guitar
Satoshi Takeishi – drums
---
Buy
iTunes
---
SGL SA1561-2
2007
---
A singer whose voice is provocatively outré yet emotionally inside the song; a guitarist whose long fingers stretch across strings and frets to create chords you've never heard before – when they find time from their busy careers to pursue a 12-year collaboration, you'd expect the results to be beautiful and strange, a compelling listen. You'd expect the poetry and shadows, but maybe not the wilder moments (like Bleckmann's vocals on plunger or electronically altered toy megaphone).

Monder is one of the most serious musicians I've ever met. His peers hold him in considerable awe for his single-minded commitment to his art: the long hours of practice; the sound now completely his own; the range of his stylistic reach, from standards to avant jazz and improv to classical guitar compositions that challenge even his abilities. Bleckmann, beyond his cachet as a jazz singer (protegé of Sheila Jordan; re-interpretations of standards, Las Vegas Rhapsody, on Winter & Winter), is the renaissance man of contemporary vocal performance; his resumé of collaborations reads like a who's who, from Meredith Monk, Laurie Anderson and Philip Glass to the Estonian Radio Choir and Mark Morris Dance. His passion is to embody music in every possible way.

Like No Boat, their 1997 duo/trio CD on Songlines, and Theo's 2000 quintet Origami on which Ben is featured, At Night is a study in contrasts that flows together into a unified statement. A recurring element here is the three settings of Rumi texts. The Sufi poet, speaking through Coleman Barks' translations, and these days frequently accompanied by music, has become a popular guide to transcendental experience. Bleckmann and Monder evoke the interior depths, along with the sensuous warmth of his meditations on God and earthly beauty, in a different way – and no surprise that this mystic drunkard would appeal to their sense of adventure, their delight in play in the awakened, improvisational moment. Another strand is their covers of pop songs – Joni Mitchell in tender empathy, the Beatles in psychedelic splendor. Then there are the wordless songs and textural improvs, several featuring Satoshi Takeishi's darting, glancing approach to percussion and electronics. So what's the through-line? Monder refers to "a balanced flow of energy." Theo, talking about his use of live electronics, offers some other clues:

"For me it's important to have a physical connection to the processing. In a nutshell: I push a button and when I push it again the loop repeats, decays, elongates etc., so the live audience is always included in the process. A computer simply doesn't have that basic simplicity that an audience can follow, unfortunately – and especially when dealing with the voice, there is so much potential of connecting to the audience even when the music is challenging. I don't want to lose that by looking at a computer screen all night….To me building up multiple vocal lines can sometimes make time and music stand still, something I'm going for in 'Late, by Myself.' It can sometimes be extremely visual, and by dissolving harmony and time that way I feel like I'm standing still at the same time as moving really fast….Each song or melody has to have a distinct sense of purpose. I most often sing wordless music, so that when I do sing lyrics I'm always trying to think of their meaning beyond the individual sentence or word to give the song its purpose. I like to convey a larger sense of mood or state of mind. Using layering in a song that has a lyric is always an extension of the words and the overall atmosphere or underlying soundscape."

What they have to say about improvisation is also relevant. Ben: "It's the approach of no approach. We've never discussed any aspect of the free improvs as far as I remember. Personally I try to be aware of elements such as texture, timbre, harmony (whether to think harmonically or not), dynamics, and contrast. Of course, these considerations could apply to any kind of playing." Theo: "Each player in this trio is very autonomous, musically speaking. Three sonic worlds can exist simultaneously and create a fourth. Free improvisation is so delicate on so many levels and there's a good balance here of making bold statements, being sensitive to one another and playing irreverently all at once."

A final request – if you have access to a multi-channel SACD playback system, try to give the record a listen in that format. You just won't hear all the subtleties or sense its moods quite the same way in stereo.